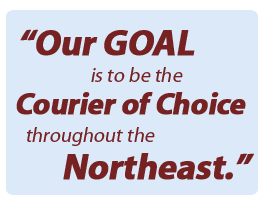 Yankee Courier Services provides dependable, time critical delivery services throughout New England, New York, New Jersey and Pennsylvania. We are committed to your satisfaction through reliable, point-to-point, pick up and delivery of your important materials.
Yankee Courier Services is your complete delivery solution – providing a competitive advantage to our customers through dedicated personnel, incomparable quality, and cutting-edge technology.
Strategic Overview

Our Goal is to be the courier of choice throughout the Northeast. Our Focus is on time critical transportation and support services. Yankee Courier Services will contribute to customer success and satisfaction by providing professional, reliable, responsive and efficient service.

To provide time critical transportation and support services that will consistently meet and exceed the quality expectations of our customers and their clients. As partners striving for excellence, we will assist them in maintaining leadership positions in their specific industries and assure ourselves of the same.