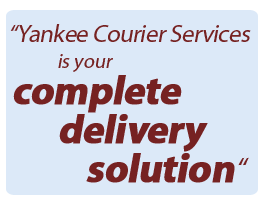 Every day Yankee Courier Services delivers products for many different types of distributors. Auto Parts, Electrical, Industrial, Wholesale and Retail are a few. While many distributors have their own vehicles making deliveries, there comes a time when they also need Yankee Courier Services.
It may be on a miss-picked order that a customer needs now, or when a customer that needs a shipment on an off-service day, or when a distributor needs help delivering their products in a new service area.
Yankee Courier Services is here to help! We understand that our customerís success is directly dependent on how well Yankee Courier delivers.
Call us today and let us earn your business!
Call (860) 386-0802